Course Architecture
Perry and Press Maxwell
The Golf Club of Dallas was the last course designed by Perry Maxwell before his death in late 1952, and was finished by his son and collaborator Press Maxwell in time for our 1953 club opening.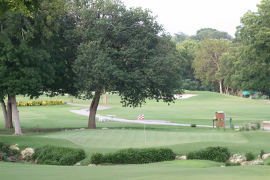 Perry Maxwell also designed Southern Hills C.C. (Tulsa, Oklahoma) and Colonial C.C. (Ft. Worth, Texas); collaborated with Press Maxwell to design Austin C. C. (Austin, Texas) and Prairie Dunes C.C. (Huchinson, Kansas); and partnered with Alistair Mackenzie to design various middle America courses. Perry renovated Brook Hollow G.C. (Dallas, Texas), Maidstone G.C. (Long Island, New York), Westchester C.C. (New York), and three of the holes at Pine Valley G.C. (New Jersey). He famously moved the 10th green at Augusta National back by 40 yards, leaving the original greenside bunkers sitting in the middle of the extended fairway.
At The Golf Club of Dallas, we believe Perry Maxwell's last course was his best and we have taken great care to preserve it. During 2002, with Charles Coody's assistance, we renewed and slightly renovated our course, primarily to restore its purity as a Perry and Press Maxwell design.